Derick Grant once again in Warsaw!
We hereby invite you to tap dance workshops with one of the biggest stars of tap!
You cannot miss that – save the date: 18th – 20th October 2019.
The workshops will begin Friday early evening and will take place up until Sunday afternoon.
On Saturday – Warsaw Tap Jam Session, which every one of you is invited to.
Registration will be open August 1st! Number of participants is limited!
See you in October!
---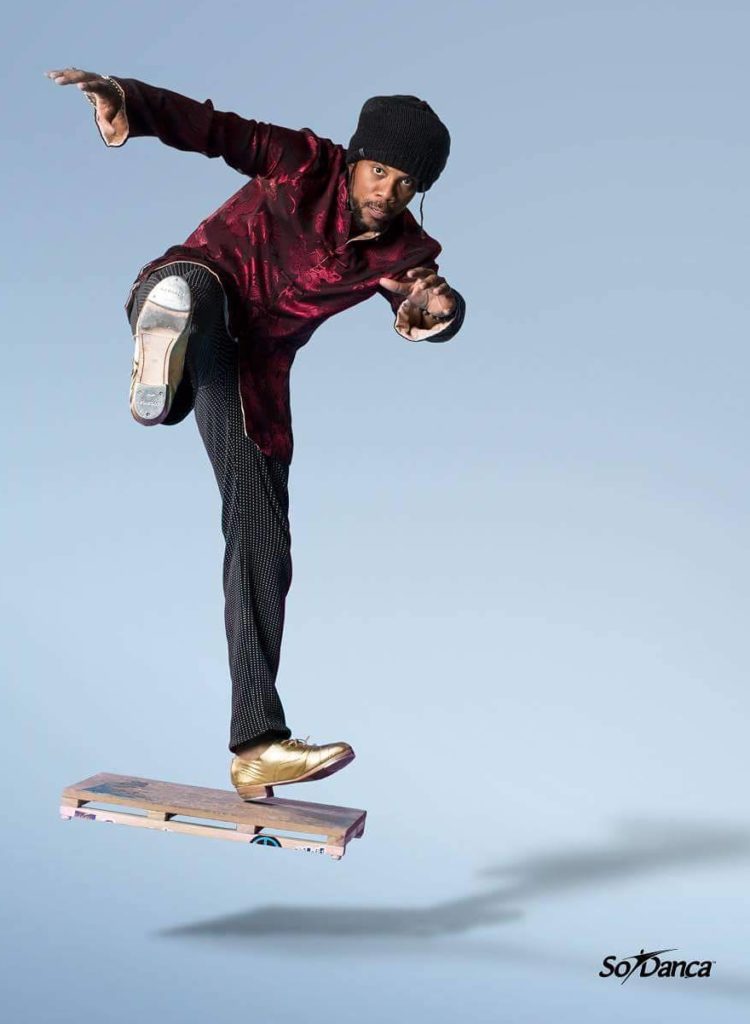 Derick Grant
Performer, Choreographer, Director. He has an established career that spans over three decades. Under the direction of two time Tony Award winning director George C. Wolfe, he was an original company member and Dance Captain for "Bring In Da Noise, Bring In Da Funk" at both The Public Theater and on Broadway and also starred in the role of Da Beat for the first National Tour of "Bring In Da Noise, Bring In Da Funk".
He created the critically acclaimed show "Imagine Tap!" and was appointed as the Co-Artistic Director of Chicago Human Rhythm Project's "Rhythm World" Summer Festival.
Mr. Grant was the recipient of the Princess Grace Award for Upcoming Young Artist, The Helen Hayes Award (Washington D.C.) for Outstanding Featured Actor as well as two additional for his role in "Bring In Da Noise, Bring In Da Funk." Mr. Grant also received two Los Angeles Ovation Awards for choreography and for best Ensemble performance in Noise/Funk, and was most recently recognized for Best Choreography for "Imagine Tap!"
He was also nominated for the Lester Horton Dance Award for Best Male Performance from the Dance Resource Center of Los Angeles. "Get On The Good Foot" (James Brown Tribute) local and national tour; The Kennedy Center for the Performing Art AFRICAN ODYSSEY program (EXPRESIONES LATINAS Festival); Opening number for Daniela Mercury with Brazilian artist Nego Gato; The Aaron Davis Hall Black History Month Celebration; The Queens Symphony Opera's DUKE ELLINGTIN CONCERT, Ann Arbor's ARTS FESTIVAL; The Embassy in Portugal; THE CONNECTICUT BALLET COMPANY's celebration of MEN IN DANCE with Brett Paphael; and as a special guest artist with The Jazz Tap Ensemble.
Mr. Grant's own production of the history of tap, "A NIGHT OUT: TAP!", toured the country successfully for three months. Mr. Grant also joined Mr. in Yonkers, NY, Vermont and Boston. He also appeared with violinist Sa-Idah for a tribute commemorating The Colonial African Heritage's African Burial Ground Reinterment produced by Schomburg Center.
In an effort to celebrate, nurture and cultivate the future of the art form of tap, Mr. Grant continues to teach locally as a faculty member at Steps On Broadway and at venues worldwide, offering group and private instruction as well as lecture demonstrations. He is currently the national tap spokesperson for SoDanca